Getting Permission to Change Schools – Part 2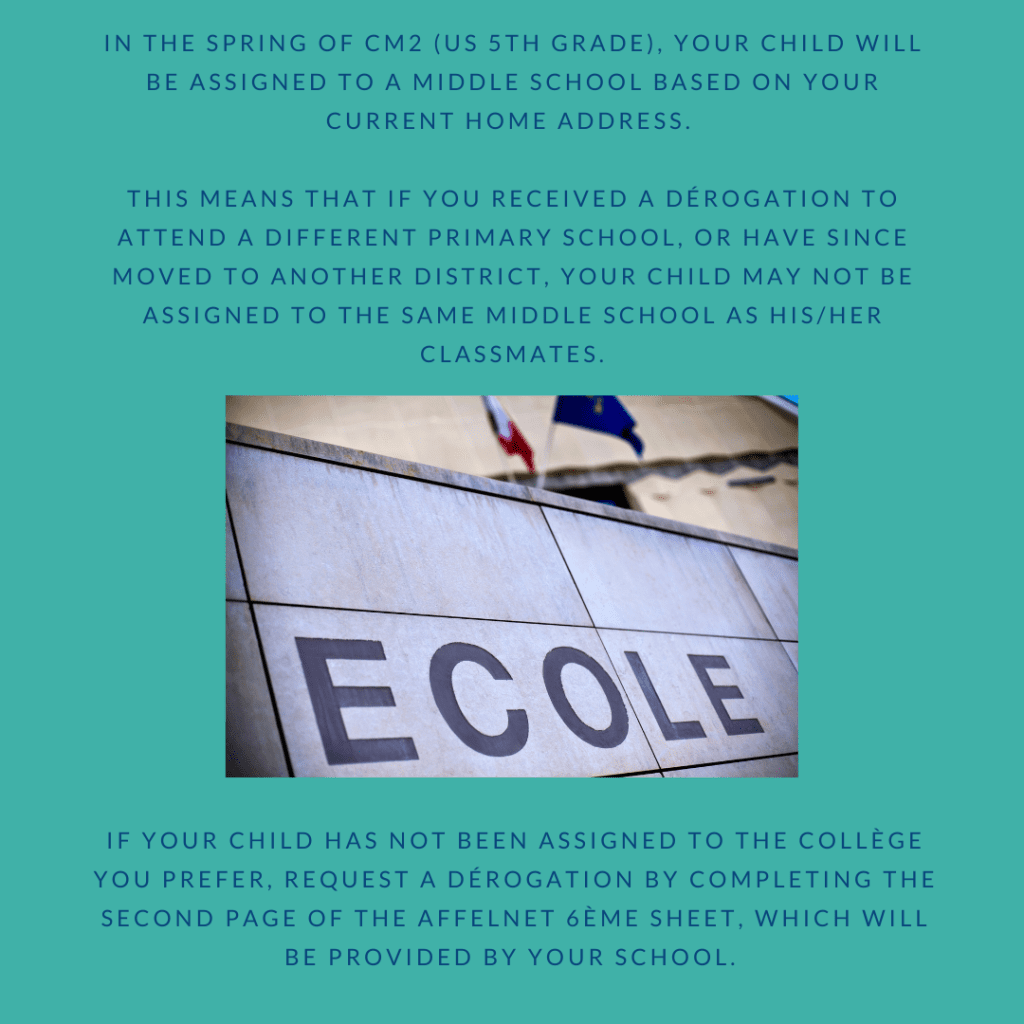 This is part 2 of a series on getting permission to change schools within the French public school system. In case you missed it, here's part one.
The first part of this series discussed some general things to consider when asking your city for permission to switch schools and the procedures to follow in maternelle and primaire. Here I will tell you about when your kids are older, in collège and lycée, and I will also give you some Paris-specific information and a few more important things to keep in mind.
Collège
In the spring of CM2 (US 5th grade), your child will be assigned to a middle school based on your current home address. This means that if you received a dérogation to attend a different primary school, or have since moved to another district, your child may not be assigned to the same middle school as his/her classmates. Geographical perimeters are set on an annual basis for each collège by your Conseil Général (in Paris, by the Mairie), and these determine all secondary school assignments. Each year slight modifications may be made to this carte scolaire, especially concerning streets on the edges of a given sector. You can usually find your assigned school online; the Académie de Paris, for example has a street-by-street search tool. https://www.paris.fr/pages/colleges-2090
If your child has not been assigned to the collège you prefer, request a dérogation by completing the second page of the Affelnet 6ème sheet, which will be provided by your school. Check with your school principal or rectorat for specific procedures. If there is room in the desired collège once the children assigned to the establishment are enrolled, your request will be accepted.
A commission de dérogation meets in the late spring to consider requests, and the DSDEN will make the final decision. If your dérogation is refused, you have two months to contact your académie and contest the decision. Note that the most strategic time to request a dérogation is for the class of Sixième, as there are relatively few openings in subsequent years, especially in the most-requested collèges.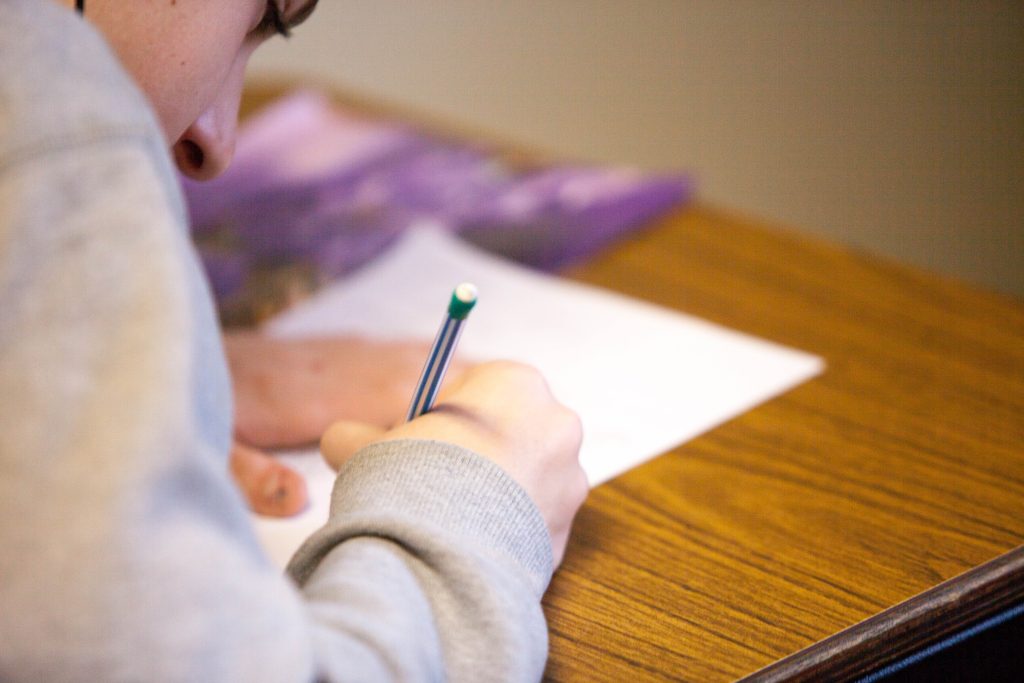 Lycée
At the end of Troisième (US 9th grade) all students receive their décision d'orientation, established by the conseil de classe and submitted to parents for approval. This determines the child's future educational path (general, technological or professional baccalauréat) and, coupled with place of residence, dictates which lycée is your child's école de secteur.
Affelnet is the computer system that assigns Troisième students to public high schools in most areas of France. Depending on their académie, students request three to eight different high schools, and Affelnet makes assignments based on the académie's pre-determined criteria. This includes the student's home address, and depending on the académie, may also include their knowledge of the socle commun (common core) and their academic results, as well as the recommendation of school principal and/or the commission d'affectation. Bonus points are often awarded to students who receive financial assistance (élèves boursières) and those who have been in REP (réseau d'éducation prioritaire) school. While students may request any lycée, it is highly recommended that one of their wishes be the école de secteur that corresponds to their home address. If their other requests are not granted, they are guaranteed placement in this school. Students make their request in concertation with their collège in May, and decisions are made public in late June/early July.
As with collèges, if there is room in the desired lycée once the children assigned to the establishment are enrolled, your derogation request may be accepted. You should address requests to the DSDEN of the desired département.
A special word about Paris
Lycée assignments within the city of Paris are more complicated, as students do not have one assigned (and guaranteed) school. Currently students must rank 8-10 schools. They receive 9,600 points if a requested lycée was in their assigned district, and up to 9,600 points based on common core knowledge and academic results. 4,800 bonus points are attributed to élèves boursiers and to those coming from a REP school. There can be quite a bit of strategy involved in ranking schools, and students are strongly advised not to put only the most prestigious schools on their lists for risk of not getting into any in the first round of proceedings and being relegated to a lycée with a poorer reputation in the second round. Note that this point system makes it very difficult to obtain a place in a school outside of one's district.
Other important considerations and tips to keep informed
Every year a number of magazines and newspapers publish high school rankings, the palmarès des lycées, based on the percentage of students succeeding on the baccalauréat exam, the school's student retention rates from Seconde through Terminale, and the socio-economic make-up of the student body. The schools with the best reputations, those that tend to be most sought-after, are usually those best rated in the table, often with 100% bac success rates. Be aware that in order to maintain a 100% success rate, some schools weed out students along the way who may not be able to pass the exam. Also, due to the weight of academic results in the Affelnet algorithm, students with higher academic results are often concentrated these schools, which can result in more competitive, stressful environments.
Deciding whether it is worth seeking a dérogation to change schools is about planning the best educational path for your child, being aware of the possibilities, and setting a strategic course. Keep your ear to the ground for the "off-the-record" information from informed teachers and parents, and check for the latest official information though your mairie or Académie/Rectorat, parent groups such as the PEEP and the FCPE, or by subscribing to publications such as La Lettre des Parents, which informs parents of educational reforms and changes in official procedures.
Margaret Jenkins
Margaret Jenkins is the Assistant Director of the American Section of the Lycée International in Saint Germain-en-Laye. She has been at the school for past seventeen years and has worked in nearly every aspect of school administration, notably piloting the growth of the school's advancement program, integrating communications, community relations, development, and alumni relations. She also works closely with secondary students, including leading a long-standing community service and culture exchange trip to India. In her spare time, she serves on COGNIA accreditation teams for schools worldwide, and is involved with local non-profits, such as AAWE, USAGSO, and the Wellesley Club of Paris.
https://www.aaweparis.org/wp-content/uploads/2021/11/francais-a-londres-Gi7zicYmh6c-unsplash-scaled.jpg
1920
2560
AAWE Guide to Education in France
https://www.aaweparis.org/wp-content/uploads/2020/08/AAWE_H_FC_RGB-300x140-1.png
AAWE Guide to Education in France
2021-11-09 22:58:52
2021-11-09 23:38:21
Getting Permission to Change Schools Part 2