Scroll down to see all our latest announcements!
No matter what our political affiliation or our feelings about the results of the presidential elections might be, the attack on the Capitol by a mob of protesters on Wednesday was frightening to all of us who live overseas. It is reassuring to see that the American institutions stood fast and continued to function.
Beth Austin, President
Latest AAWE Announcements Below

Advertise in the new AAWE Guide to Education
Details at Advertise in the AAWE Guide to Education in France: 9th Edition
Does your business offer a service to families or teens? Career counselors, teen coaches and other relevant services are welcome to advertise in the brand new 9th edition of the AAWE Guide to Education in France.
Does your child's school need to reserve an advertising space?
Contact Josh at aawe@orange.fr, or reserve your space directly at www.aaweparis.org/ad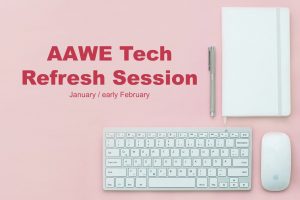 AAWE Tech Refresh Session
What do you want to learn?
We would like to host an AAWE Tech Refresh Session via Zoom in January or early February. In order to tailor the event, we'd like to know what you want to learn / go over.
Please answer this 2-question Google survey to gauge interest and see what days and times work best for you.
Please click the link below to access and complete the survey.
The AAWE board wishes to thank all the members who created the lovely Handicrafts, came up with the tea towel concept and got them produced, wrote the original cookbook which people are now rediscovering, as well as edited our wonderful Beyond the Bac.
As we were unable to sell all these items at our usual Winter Festival due to the pandemic, we have adapted our way of fundraising to cover our operating costs through selling them online. As a 1901 association, it is important to stay within our non-profit boundaries. It is for this reason that we are slightly changing the names of the shops on the website to reflect this. Do not be surprised when you see them.

AAWE Gift Tea Towels
The Eiffel Tower graphic and "Association of American Women in Europe" will be a sure crowd-pleaser whether you give them as a hostess gift for an empowered girlfriend, a gift for a teacher or a helper, or a reminder to your children of a mother's love for her club!
Available at the office on Tuesdays and Wednesdays, or place orders on www.aaweparis.org/aawe-holiday-boutique/.
Led by HER needs Volunteers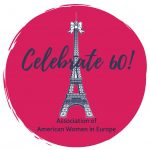 AAWE means so much to so many people: an extended family, a cultural home, a source of friendship and support, an avenue for community service, and, of course, a group of dynamic women that know how to have fun!
Getting to our 60th anniversary didn't happen by accident — it took vision, energy, and dedication. Making sure that our association is sustainable through our 70th anniversary and beyond is a project for us all.
We have a lot to celebrate, so please join in!
Got ideas or suggestions for ways to celebrate AAWE's 60th anniversary? Please email Leslie and Pamela at big60@aaweparis.org.
Les Historiennes Second Series
Come plan our next events!
Les Historiennes are back from year-end holidays and now planning for a new set of activities to take place from mid-March to the end of May. The focus will be on the period 1870-1890, which includes the Franco-Prussian War, the Commune, and the beginning decades of the Third Republic. All AAWE members are welcome to join the planning group for this spring. If you are interested, contact Margo De Ley at mcdeley@sbcglobal.net.
Lectures complimenting Les Historiennes
Les Historiennes Spring events will focus on the first three decades of the Third Republic. Fortuitously, art historian Chris Boicos of Paris Art Studies, in collaboration with faculty of the University of Southern California (USC), offers two series of lectures focused on nearly the same period (1870-1895)! For all registrations prior to Jan 18th, a portion of the registration fee will go to AAWE!  
Lectures, via Zoom, are on Wednesdays at 5 pm, starting on Jan 27, examining politics, society, literature, and art of the era. The cost is 17€ per lecture, or 60€ for the full series (15€ each). If you register by Sun Jan 17, 6€ per lecture or 16€ per series will go to AAWE. On Jan 18, Chris will announce the series to his mailing list, and no further registration fees will go to AAWE.
Wed Jan 27: From War to Revolution: A History of the Paris Commune of 1871, with Mariam Habibi, USC
Wed Feb 3: The Politics of Art:  Painting, Sculpture, Architecture & the Third French Republic, 1871–1895, with Chris Boicos.
Wed Feb 10: Art in a Time of War: French Artists during the Franco-Prussian War & the Paris Commune, with Ann Catherine Abecassis, USC
Wed Feb 17: Absinthe: The 'Green Fairy' of 19th Century Paris, with Sylvie Koneski, USC
For more detailed descriptions of each lecture and to register, email Chris at parisartstudies@gmail.com.  And remember to sign up by Sun Jan 17 to benefit AAWE and the Historiennes program!
Note that Paris Art Studies and USC will offer a second series of lectures on Feb 24, Mar 3, Mar 10, and Mar 17. Then in March, Les Historiennes series of fun, engaging, more intimate events for members of AAWE, AWG and WIC, will begin – hopefully including in-person events!