AAWE Office Hours
The office is currently open Mon-Fri 10h-17h, in person or by télétravail. To access the office, call 01 40 70 11 80 to check which day Josh is present in person.
The office will be closed on May 13, 14 (Ascension) and 24 (Pentecôte)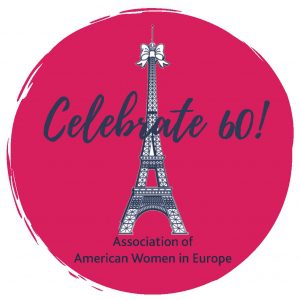 A Great Big Virtual Birthday Card is waiting for you to add your best wishes to AAWE on her 60th Birthday, April 26th.  This card will be presented on screen as part of the virtual Zoom celebration that evening.
Please take a minute and post your message, along with any photos, HERE. This is a chance for you to express yourself about your time with AAWE, whether it is two years or 20 or more!
American Library offer for AAWE members
Discounted rate
A reminder that our friends at the American Library have partnered with AAWE to offer library memberships to AAWE members at a substantially discounted rate.


To benefit from this offer, use the email you received on Feb 11th, or contact the office for a fresh copy of it.
Fun fact – The amount of the discount for an individual member offered by the American Library actually covers at least half of your AAWE dues, and if you enjoy reading the New York Times online, it is free with a Library membership. That is what I call an AAWE member perk!

French Nationality Survey
Have you applied for or received French nationality in the past 5 years? Help your AAWE sisters who are in the process by filling out this short questionnaire
here.
As a reminder, AAWE offers a reduced rate Musée du Louvre card, the Amis du Louvre card. This is thanks to the efforts of Cheryl Petit. She encourages AAWE members to renew their Amis du Louvre membership in 2021.
Even though the museum is closed there are numerous activities online!
An added bonus, the membership gives a tax receipt!
Renewals can only be done online via the Amis du Louvre website.
The AAWE promotional code for this year is AAWE_21 (valid until December 31, 2021).
Be sure to insert the AAWE promotional code before you pay in order to obtain the AAWE reduction.
STEP
We have been asked by the US Embassy to encourage all Americans to register in STEP – The Smart Traveler Enrollment Program. Whether you are travelling or not, being registered allows the Embassy to inform you of anything important happening in Paris: https://step.state.gov/