Happy 60th birthday AAWE!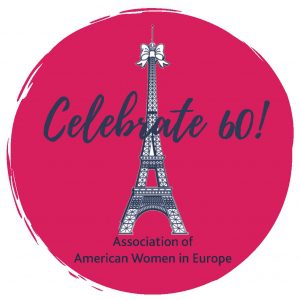 A Great Big Virtual Birthday Card is waiting for you to add your best wishes to AAWE on her 60th Birthday, April 26th.
This card will be presented on screen as part of the virtual Zoom celebration that evening.
Please take a minute and post your message, along with any photos, 
HERE
.
This is a chance for you to express yourself about your time with AAWE, whether it is two years or 20 or more!
Our beloved AAWE is turning 60 years young this year! The thriving, diverse, multigenerational community we know today has a rich and inspiring history. Although we're not yet quite sure when we will be able to celebrate AAWE's 60th anniversary in person, we're kicking off the year by celebrating our beginnings, our present and our future though an ongoing 60th Anniversary Series!
In coming months, you will learn how our association was founded – and why – and get to know some of the amazing women who contributed to its growth and accomplishments.
You'll also hear from some of the younger members, our "Younger Wonders", who are making AAWE relevant for the newest generation.
And you'll find out more about the wide scope of activities that have enriched our members' lives as well as built AAWE's reputation as a pillar of the American and international community in Paris.
AAWE means so much to so many people: an extended family, a cultural home, a source of friendship and support, an avenue for community service, and, of course, a group of dynamic women that know how to have fun!
Getting to our 60th anniversary didn't happen by accident — it took vision, energy, and dedication. Making sure that our association is sustainable through our 70th anniversary and beyond is a project for us all.
We have a lot to celebrate, and look forward to sharing it with you!
Celebrating 60 Years of AAWE!
Scroll down to learn about each week in history in 1961 and learn how our children's activities have evolved over the past 60 years.
This Week in History
A regular AAWE feature to celebrate 60 years of AAWE.
As part of our year long celebration, click on each + below to learn interesting facts from each week in 1961, the year AAWE was founded.
Week 17
Alan Shepard, aboard Freedom 7, became the 1st American in space.
The first CORE Freedom Ride, a series of bus journeys by civil rights activists to test the newly-passed Supreme Court ruling against segregation, departed from Washington, D.C.
George Blake, a British spy found guilty of working as a double agent for the Soviet Union, was imprisoned for 42 years. After just five, he would escape and flee to Moscow.
George Clooney, actor, was born in Lexington, Kentucky.
Other interesting history this week:
1469 Italian philosopher and writer Niccolo Machiavelli was born.
1776 Rhode Island became the first colony to declare independence from England.
1821 Napoleon died in exile.
1966 Willie Mays broke the National League home run record.
Week 16
The United Kingdom granted Sierra Leone independence.
ABC's "Wide World of Sports made its debut.
Premier Fidel Castro of Cuba received the Lenin Peace Prize and four days later announced that there would be no more elections in Cuba.
Harper Lee was awarded the Pulitzer Prize for her coming-of-age novel To Kill a Mockingbird.
Other interesting history this week:
On April 27, 4977 B.C., the universe was created, according to German mathematician and astronomer Johannes Kepler, considered a founder of modern science.
1954 the Polio vaccine trials began.
1956 Grace Kelly and Prince Rainier of Monaco married.
1969 Charles de Gaulle resigned as leader of France.
Week 15
The Russian cosmonaut Yuri Gagarin became the first person to orbit the earth.
The UN General Assembly condemned South Africa's apartheid.
The Soviet Union made its first live television broadcast.
France won its second Five Nations Rugby Championship with a 15-3 victory over Ireland in Dublin.
1,400 Cuban exiles land in the Bay of Pigs in a doomed attempt to overthrow Fidel Castro.
Other interesting historical facts for the week of April 12-18:
In 1633, Galileo was accused of heresy.
1743, Thomas Jefferson was born.
1775, First American abolition society founded in Philadelphia.
1818, Webster's American Dictionary of the English Language is printed.
1865, John Wilkes Booth shot Abraham Lincoln.
1870, The Metropolitan Museum of Art opened in New York City.
1928, The first nonstop flight went from Europe to North America.
1997, Tiger Woods won the Masters Tournament for the first time.
Week 14
Zog I, King of Albania (1925-39), died in exile in France.
At the 25th US Masters golf tournament, South African Gary Player became the 1st international champion.
The trial of Adolf Eichmann, one of the major organizers of the holocaust, began in Jerusalem, for war crimes in WWII.
Folk singer Bob Dylan performed in New York City for the first time.
In 1805, Lewis and Clark resumed their journey West after spending the winter at Fort Mandan, near present-day Bismarck, North Dakota.
Week 13
The 23rd amendment, allowing residents of Washington, DC to vote for president, was ratified.
Eddie Murphy, actor, (
SNL, 48 Hours, Beverly Hill Cop
), was born in Brooklyn, NY.
The UN adopted its Single Convention on Narcotics Drugs. It included language that prohibited the chewing of coca leaves.
After four-and-a-half years, the South African Treason Trial comes to an end. All 156 defendants, including Nelson Mandela, are found not guilty.
Too bad we're not looking at 1889. March 31st of that year the Eiffel Tower was inaugurated!!
Week 12
Elvis Presley performed live on the USS Arizona, for a fundraiser for a memorial.
John F. Kennedy met with British Premier Macmillan, in Washington to discuss increased Communist involvement in Laos.
Black demonstrators in Charleston staged ride-ins on street cars.
There was a failed assassination attempt on King Saif al-Islam Achmad of Yemen.
Week 11
South Africa withdraws from the British Commonwealth.
The Beatles make their first appearance at the Cavern Club in Liverpool.
The Agony and the Ecstasy was published by Irving Stone.
The "Poppin' Fresh" Pillsbury Dough Boy was introduced.
The Eurovision Song Contest is won by Luxembourg for the song "Nous les amoureux". It is the first of the country's five victories over the coming years.
The "Kurenivka mudslide" occurs in Kiev after a local dam collapses. Soviet authorities suppress information about the disaster and claim 145 fatalities. As with other 1961 events, the passage of time paints a different picture, with a 2012 study estimating the actual number of victims to be close to 1,500.
Week 10
Sputnik 9 was launched with a dog named Chernushka (Blackie) on a one-orbit mission. Also onboard the spacecraft was a dummy cosmonaut, mice, frogs and a guinea pig. (Unfortunately Chernushka did not come back alive).
Mattel releases the Ken doll, introducing him as Barbie's new boyfriend.
US nuclear submarine Patrick Henry arrived at Scottish naval base of Holy Loch from SC in a record under seas journey of 66 days 22 hrs.
Week 9
US President JFK establishes the Peace Corps.
First London minicabs are introduced.
79-year-old artist Pablo Picasso marries Jacqueline Roque, 44 years his junior, in Vallauris, France.
The phrase "affirmative action", referring to the policies of hiring and treating individuals on merit without race, creed, color or national origin being a factor, is first coined in an Executive Order signed by President Kennedy.
Week 8
John F. Kennedy named Henry Kissinger national security adviser.
British Foreign Sec. Douglas-Home said in a "Top Secret" letter to Defense Minister Harold Watkinson that, "It must be fully obvious to the Americans that Hong Kong is indefensible by conventional means and that in the event of a Chinese attack, nuclear strikes against China would be the only alternative to complete abandonment of the colony." The document was made public in 2006.
The last active tram in Sydney ceases operations, bringing to an end the largest tram network in the entire Southern Hemisphere.
Hassan II is pronounced King of Morocco, a position he would hold until his death in 1999.
Week 7
This was a bleak week in U.S. history:
Sabena Flight 548 crashes in Belgium, killing 73, including the entire United States figure skating team, several coaches and family members.
Albania disavows Chinese "Revisionism."
1st all-solid-propellant rocket put in orbit, Wallops Island, Virginia.
China uses its 1st nuclear reactor.
Week 6
The Beatles make their debut appearance at The Cavern Club in Liverpool, the first of the band's 292 performances at the venue.
Soviet Union fires a rocket from Sputnik V to Venus.
Niagara Falls hydroelectric project begins producing power.
Week 5
At Wailuku, Hawaii, former U.S. President, Barack Obama's parents, Stanley Ann Dunham and Barack Obama, Sr. were married.
The push-button telephone was put into public service for the first time; its first customers were in Carnegie, PA and Findlay, OH.
Jane Fonda made her television acting debut in the NBC drama "A String of Beads."
Marilyn Monroe was admitted to the Payne Whitney Psychiatric Clinic and locked inside a padded cell, four days after the release of her latest movie, The Misfits, which would also turn out to be her last.
French interior designer Stéphane Boudin made his first visit to the White House, to plan the refurnishing of the U.S. President's residence at the request of the new First Lady, Jacqueline Kennedy.
Was born: Prince François, Count of Clermont, Dauphin of the Orleanist, claimant to the French throne.
Week 4
Walt Disney's "101 Dalmatians" was released.
President Kennedy held the first presidential news conference carried live on radio and television.
"Are You Lonesome Tonight?" by Elvis Presley peaked at #1.
Janet G. Travell became the 1st woman personal physician to the US President.
In South Carolina 10 black men were arrested for ordering lunch from a whites-only counter at McCrory's variety store in Greensboro. One man paid a fine and the rest became known as the "Friendship Nine." In 2015 prosecutors sought to vacate their arrests and convictions.
Ham the Chimp becomes the first ape in space, climbing to a distance of 157 miles above Earth in the Mercury-Redstone 2 Launch Vehicle.
Disenchanted with life in the Soviet Union, American defector Lee Harvey Oswald wrote to President Kennedy's newly appointed US Secretary of the Navy, John Connally, to ask for a reversal of Oswald's dishonorable discharge from the United States Marines. The letter was never acted upon, and on November 22, 1963, Oswald would shoot both Kennedy and Connally.
Week 3
This week in 1961 saw the inauguration of America's 35th and youngest President, John F. Kennedy. For the first time the event was shown on color television. He gave his now famous "Ask not" speech from the Capitol steps.
Four time Pulitzer Prize winner Robert Frost was the first poet to participate in a presidential inauguration. Because of failing eyesight, a bright glare on a sunny day with snow cover, and a dim typewriter ribbon, he could not recite the poem he wrote for the occasion, "Dedication", but recited from memory his famous poem "The Gift Outright".
Jackie Kennedy was on the cover of TIME Magazine.
Week 2
To Kill a Mockingbird was one of the best selling books. The US banned travel by its citizens to Cuba, except in special cases. Clark Gable was on the cover of Life Magazine. The US government published its very first set of dietary guidelines: eat less fat. The Supremes signed with Motown Records. The University of Georgia admitted African-American students for the first time, provoking race riots.
Week 1
1961 was a year filled with tension and excitement in equal measure. While gigantic advancements were being made in the space race, they were equaled by developments in numerous conflicts across the globe, most notably the Vietnam War and the Cold War, all heralded by the inauguration of one of America's most popular presidents, John F. Kennedy.
On the Chinese calendar, 1961 was the Year of the Ox. People born under this sign are known to be persistent and straightforward. AAWE's founder, Phyllis Michaux, was very persistent and straightforward when she set out to find women in her similar position, after challenges with US citizenship due to her marriage to a foreign national, and then forming our club.
AAWE members have been persistent ever since in keeping our club alive, vibrant, and successful.
This New Year 2021 is also a Year of the Ox. And together we will surely be persistent and get through this pandemic.
Look for more to come surrounding our 60th celebration!
60 Years of Children's Activities