Reserve a Stand at "Which School is Right for My Child?" School Fair
Saturday March 26, 2022, from 3-5:30pm, at the American Church in Paris, 65 quai d'Orsay, 75007 Paris
Reserve your school's table by completing the form below, and contact us to discuss availability, and your registration fee.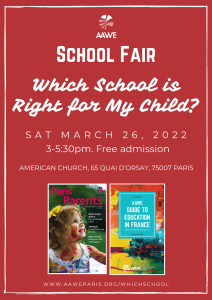 ---
---
The brand new edition of Paris Parents magazine will be distributed free to attendees at the fair. Should you wish to advertise in this magazine, please visit www.aaweparis.org/parisparents, or contact the AAWE office. Ad spaces for all budgets start at just 80€. Our Which School fair and Paris Parents magazine occur just once every two years, offering an opportunity to reach bilingual families in France. Hundreds of printed copies will be distributed at Which School fair, on March 26, 2022. Paris Parents will be highlighted at AAWE education talks and children's event over the following months, and electronic copies will be distributed on our website, with adverts offering click-through links. Parents seeking a school at the Which School fair pick up a free copy, and it remains a long-term resource for growing families.
Full-page A4 (400€), half-page (225€), quarter-page (150€), and compact-size adverts (80€), as well as premium cover spaces
Reserve your ad by January 31 deadline. Visuals required by February 15, 2022. Reserve at www.aaweparis.org/parisparents
---
In line with the applicable regulations at the time of this event, the passe vaccinal or passe sanitaire will be required for all participants (exhibitors and visitors), according to conditions required for indoor events in March 2022. Exhibitors and representatives who cannot comply with the appropriate pass will be unable to enter the fair, and no reimbursement of fees will be possible in that case.
Should the event be cancelled due to pandemic conditions continuing through that date, school reservation fees will be reimbursed.