AAWE Empowered Women Series – Member Page
Paula Madison in conversation on "Working to Pursue Your Dreams"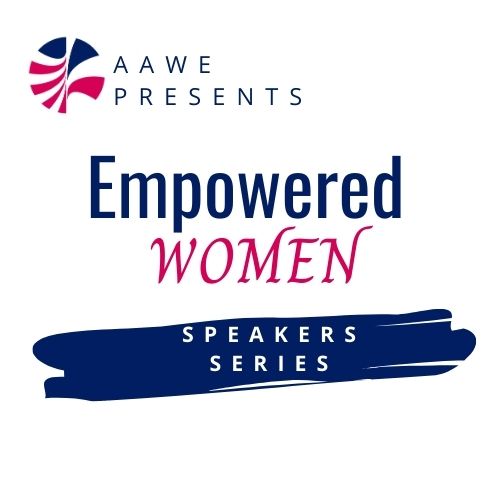 Register for this AAWE Members free event by filling out and submitting the form below.
Please join us on Monday, October 18, 2021 at 6:00pm for a lively Zoom discussion between author, journalist, and media executive Paula Williams Madison and AAWE board member Pauline Lemasson.
The conversation will be in English.
At age 58, Paula Madison was at the peak of her career as an NBC Universal executive overseeing diversity and inclusion when she decided to walk away from it all. She pursued a life-long passion to go in search of her grandfather, a Chinese merchant who settled in Jamaica. But this decision was anything but rash; everything she had accomplished to this point, including her career as a journalist and network brass, had been leading to this moment. Her personal journey culminated in a documentary film and memoir, Finding Samuel Lowe, a meticulously researched and deeply moving story about familial love and devotion that transcends race, space and time.
We will talk about planning and pursuing our dream projects, life and work balance, and the importance of diverse women's voices and expertise.
About Paula Williams Madison
Paula Williams Madison is Chair and CEO of Madison Media Management LLC, and 88 Madison Media Inc., her media production company. She spent 22 years with NBC Universal and was most recently Executive Vice President and Chief Diversity Officer as well as Vice President of the General Electric Company. Honored for corporate leadership and community outreach, Madison was named one of the "75 Most Powerful African Americans in Corporate America" by Black Enterprise Magazine in 2005 and was included in Ebony Magazine's "Power 100." In 2013, Los Angeles Mayor Eric Garcetti appointed Madison to the Los Angeles Police Commission, where she served as Vice President until 2015. Madison is the former Owner/CEO of the Los Angeles Sparks WNBA basketball team.

She is an honorary member of the Delta Sigma Theta Sorority Inc., a predominantly African- American sorority whose members boast more than 300,000 college-educated women. Madison is executive producer, and subject of, Finding Samuel Lowe: From Harlem to China, a documentary that chronicles her journey to her maternal grandfather's homeland in China. In 2015, HarperCollins published a memoir of the journey, Finding Samuel Lowe China, Jamaica, Harlem. She's developing a TV series for Amazon TV and Legendary Studios based on her book. Madison, a native of Harlem and a graduate of Vassar College, resides with her husband in Los Angeles.
About Pauline Lemasson
Pauline Lemasson is a contributing writer for Inspirelle and Untapped Paris where she writes on culture, history, and current affairs, particularly pertaining to the Anglophone community in Paris. She was formerly the Executive Director of the Chinese American Museum in Los Angeles and most recently the Strategic Partnerships Manager at the American Library in Paris.
Paula has given AAWE members links for those who would like to watch the documentary trailer and feature, with the password for the full feature so there is no fee. This was the project that she left her corporate position to pursue full-time. 
See video links below.
Trailer for Finding Samuel Lowe (3:14)
Feature Finding Samuel Lowe (88 minutes)
Password required to view: FSLd!st5rn