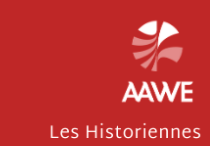 Les Historiennes New Series: La Belle Epoque
Fri Oct 22, at 20h
Les Historiennes of AAWE and AWG are at work creating a series of fun and engaging events this fall around La Belle Epoque (1890-1914). The activities will take place from mid-October through mid-December.
Save the evening of Friday October 22nd to see Stravinsky's Rite of Spring at the Maison de la Radio et de la Musique or better yet, buy a ticket! We plan to meet for an apéro before.
We are excited about the upcoming release of the film "Eiffel" and the expo this fall at the Musée Marmottan Monet focused on Julie Manet.
We have two distinguished authors who will share their expertise and passion for French history with us: Ruth Harris of Oxford University on the Dreyfus Affair and Mary McAuliffe, author of Dawn of the Belle Epoque and Twilight of the Belle Epoque!
Questions or suggestions? Contact Margo De Ley at mcdeley@sbcglobal.net.