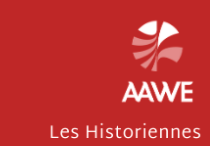 Calling all HistoriennesHistoriennes! We have the opportunity once again, this fall, to create a series of activities for members of AAWE and AWG around a particular period in French history.
Fall 2020's chosen period was the Second Empire. For spring 2021 it was the period 1870 – 1890.
The choice of period and activities is made by the women who join the planning team for each semester.
You are cordially invited to a planning meeting for the fall 2021 Historiennes series!
It will take place via Zoom on Monday, August 9th, from 5:00 – 6:15 pm. If you have questions or ideas, don't hesitate to contact me at
mcdeley@sbcglobal.net
or 06 14 79 09 13.
Let me know if you'd like to attend, and I will send you the Zoom link. Happy August to all! –Margo De Ley